Laminadora FOLIANT Mercury 400SF (frente e verso)
A Foliant Mercury 400 SF é um máquina de laminação industrial muito compacta, construída para mercado digital e offset entregando resultados perfeitos de laminação, com um alimentador de sucção integrado da Heidelberg e separador na saida de alta velocidade. Existem vários opcionais disponíveis para a máquina Mercury - por exemplo um módulo para a laminação de dupla face, um módulo com o rolo de laminação em relevo, Palete Empilhador, etc.
Due to its high pressure system, format and performance the machine is suitable for all jobs – all kinds of digital printed sheets lamination and high volumes of offset printed sheets size B3+ lamination too. The machine maximum speed is up to 20 m/min., while performance is 2400 sheets per hour of B3 portrait (white paper 200 gsm).
Feeder
The FOLIANT Mercury 400 SF is equipped with a rising pile back separation stream feeder and with a suction feed head Heidelberg. It is driven by an Omron servo motor and controlled by a machine central PLC. The Becker vacuum pump is used for sheets back airing. The overlaps are electronically controlled, in an "in-run" automatic mode, from the touch screen. The accuracy is +/- 2 mm under-lap (in a constant speed). The feeder is fitted with a lifting plate and its capacity is a 54 cm pile of paper.
Laminator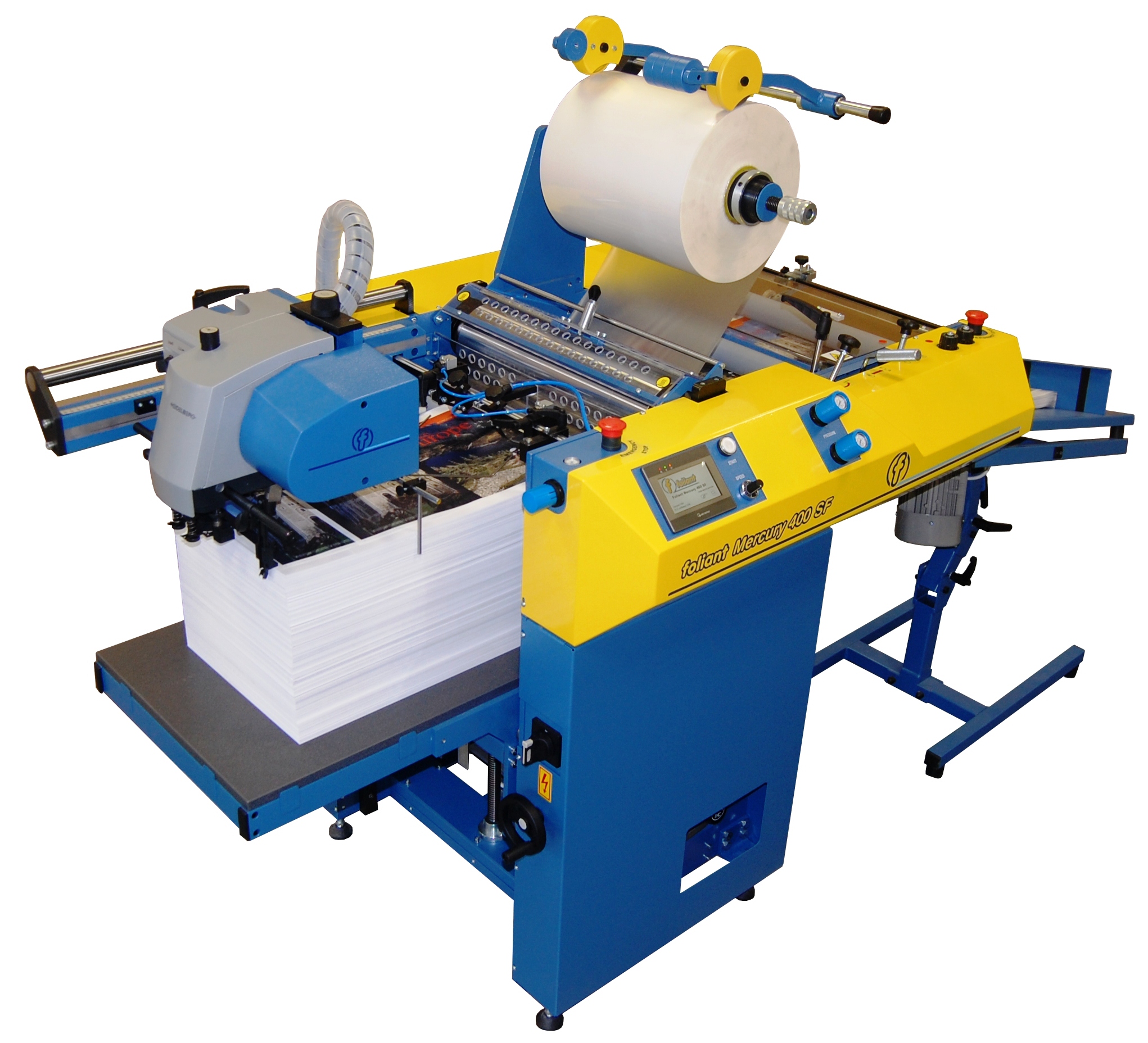 The FOLIANT Mercury 400 SF laminator maximum sheet size is 38 x 70 cm (for example the maximum outputs from Xerox iGen4 are 38 x 66 cm). The minimum sheet size is 30 x 20 cm (A4).The FOLIANT Mercury 400 SF machine is a single sided thermal industrial laminator, laminating the 115 – 500 gsm paper,.
The laminating unit is equipped with an adjustable twin decurl unit:
With a decurl blade for offset printed sheets decurling
With a decurl roller for digital printed sheets decurling (to prevent the scratches on sheets printed on both sides by digital print with sensitive inks).
The roll of a film is mounted on a quick-changed shaft with a film tension control breaker. The shaft capacity is up to 3000 m of the 24 - 31 microns film. The film holder unit is equipped with a trim slitter and a perforating wheel.
The laminating process is made between two laminating rollers - a highly polished chrome roller, and a lower hard rubber pressure roller. The laminating roller is heated with a dry electric system inside the roller, with a sensitive temperature sensor. The warming up time is shorter than 10 minutes. The pressure is pneumatically adjustable, with an extra independent control knob for each roller edge.
The machine is fitted with OMRON Programmable Logic Controllers, which control all machines' functions. The used PLC system includes many automation items for an easy control of the machine and a reliable lamination. The whole machine is controlled by an interactive easy understandable icon touch screen panel – no language version is needed.
Separator
The integrated bump separator (sheeter) is equipped with a pair of fast cycling rollers. The process is controlled from the machine PLC unit. The separated sheets are delivered into a vibrating jogger (optional) or a pallet stacker (optional).
Laminating films
The machine laminates the BOPP films (23 – 42 microns) and Nylon films (max. 35 microns). The PET films (max. 35 microns) can be laminated with the optional module only.
Options
It is an adjustable vibrating reception unit for the laminated sheets stocking. Its capacity is limited up to a 10 cm pile of sheets.
Pallet Stacker 400 (Optional)*
It is a device equipped with a lifting plate with a pallet, electronically controlled from the machine PLC, which loads the laminated sheets into a high pile. Its capacity is 70 cm pile of sheets
Double Sided Laminating Module (Optional)
It is module for one pass double sided sheets lamination.
PET Lamination Module (Optional)
It is a module integrated inside the separator for the PET films (max. 30 microns) processing.
Film Loader / Manipulator (Optional)
It is an electric lift with a film core adaptor for loading heavy rolls of film (max. capacity 125 kg). The device is not integrated with the machine. It is only connected with the machine electric circuits.
*Important – the machine must be operated either with a Pallet Stacker or with a Jogger
Caracteristicas:

Máxima velocidade

20 m / min.

Alimentação

Automática

Sistema de Alimentação

Sucção com cabeça da Heidelberg

Capacidade de Carga do alimentador

54 cm

Controlador de voltas

Automatico, controlador CLP

Precisão do Controlador

+ / - 2 mm

Separação na saida

Automatica por rolos

Gramatura do papel

115 - 500g

Sistema de pressão dos rolos

Pneumático

Compressor 150L/min

Incluso

Dimensão Mínima do Papel

20 x 30 cm

Dimensão Máxima do Papel

38 x 70 cm

Max. Performance

2400 B3 / hora

Tempo de aquecimento

8 min.

Controle de temperatura

80 - 140°C

Tensão de energia

400V AC, 50-60 Hz

Potência

5000 W

Piso ocupado (LxC)

incl. Jogger

105 x 230 cm

Peso

430 kg

Modulo para processamento de filme PET

Opcional

Double Sided Laminating Module

Opcional

Jogger 400

Opcional

Pallet Stacker 400

Opcional

Pallet Stacker Capacity

70 cm

Carregador de filme (Elétrico)

Opcional
Quer mais informações?